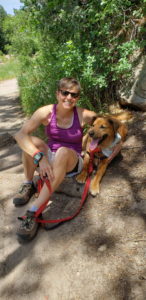 Hi there!
My name is Gen and I've been a volunteer at Wild Blue for about fifteen months.  I started volunteering when I was seven years old and haven't stopped since.  My husband, Joe, says that I can't say "no" to anyone in need.  🤣🤣🤣  My youngest daughter and I help out in the sanctuary on Friday nights, I help coordinate Kitty Komfort, help out with our feral mama cats and kittens, help with socializing some of our foster kittens, sew adoption blankets and, most recently, joined the follow up adoption call team.   I'm a speech language pathologist by trade but volunteering my time and talents is my happy place.
I grew up in Milwaukee, Wisconsin but moved away after graduate school. I've been married to my dear, darling, and very patient husband for 21 years.  We have three kids – Michelle, James, and Josie, all of whom help out at Wild Blue when able and three fur babies (2 cats and one 65 pound lapdog). We also sponsor over 2 dozen cadets from the Air Force Academy.
Joe was a career pilot in the Air Force and, while we didn't move as often as many families we know, when it came down to where we were going to retire, I had the final say. Since he flies for United Airlines, Colorado was a good fit.  Plus, our family likes to be active outdoors and actually likes the cold weather.
I love to cook and bake, doing either at the drop of the hat if anyone even looks a bit peckish.  I also love to sew and crochet.  One day, I hope to learn how to make a decent loaf of bread from scratch and to knit. If I'm not in the kitchen or working on some project or another, you can often find me outside running, hiking, or walking my sweet boy Beau.  On the off chance I'm actually sitting down, one of our kitties will be on my lap or nearby.
Wild Blue Cats! has been a great and fulfilling addition to my busy life!  As much as I love loving on the kitties, I love it even more when I get to hear that they've moved on to loving homes where they will be cherished family members.  And while neither of our sweet kitties are Wild Blue kitties, I betcha the next ones will be. 😊