Hi, my name is Laura and I learned about Wild Blue a few years ago after speaking with a staff member from Best Friends. Rick and I were looking for a local rescue to donate to that had the same goals as Best Friends.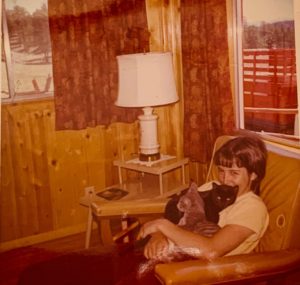 I was delivering some fleece beds I had sewn for the cats to the Sanctuary one chilly morning in March of 2017 and met Melinda. She asked if I was interested in volunteering and I said maybe (I had been thinking about it) and before I quite knew what was happening, I was signed up to work the Tuesday morning Sanctuary shift!
At the time, I was the care giver for my mom and could only devote the one morning a week to Wild Blue. After she passed away last year, I knew I wanted to do more for the kitties but not necessarily scoop more poop. I volunteered to implement and maintain Wild Blue's donor database, Little Green Light. I track donations and send thank you's to everyone who honors Wild Blue with a gift.
I have lived in Falcon with my husband Rick for 25 years. We have two lovely kitties, Roxannie and Lily Pad. Roxannie was adopted from the humane society and Lily was adopted from Wild Blue. We love and spoil them…. just like we are supposed to.
Rick and I are both natives of Colorado Springs. I grew up on the west side of town. I got my first kitten, Mittens (original, I know), the summer I turned 9. Cats have owned me since then.
My parents had a cabin and some land in the mountains west of Lake George and we also had a donkey, horses and always a dog. Oh and a guinea pig named Tweetie Pie.
I love animals of all kinds but most of my heart belongs to cats. Each one is a unique sweet soul. I love volunteering at Wild Blue and I think I make a difference in the lives of the kitties at the Sanctuary….. especially at feeding time on Tuesday morning.