We are so happy that you are considering adopting!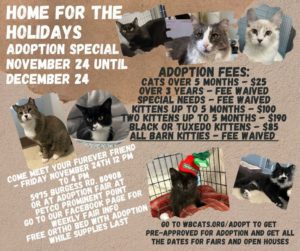 There is some important information for you to understand so please read through everything prior to submitting an adoption application.
At Wild Blue, we have a huge variety of cats and kittens for you to consider. Some of our cats and kittens have a chronic illness, disability, behavioral needs or are geriatric, and they would have otherwise been euthanized at other shelters. If you're able and willing to adopt a special needs kitty, please make sure to indicate as such on your adoption application so that we're sure to introduce you to some of our special friends!
Our Barn Cats Need Homes!
Wild Blue Cats is looking for safe barns or businesses for shy, feral and semi-feral cats, adult and young adult cats, male and female, all colors, shapes and sizes. They have come from all kinds of bad situations…these cats are all safe now and are fixed and vaccinated. They just need a new place to call home such as a ranch, warehouse, brewery, etc.  To learn more, select BARN CATS in our Available Cats Section.  Please submit a Barn Cats Adoption application if you are interested in adopting one of our barn cats.