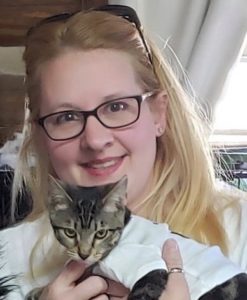 Hi! My name is Melissa. I became a foster for Wild Blue in May 2019.
I live in Fountain with my husband John and two of our three children, Gavin, 21, and Sarah, 18. My son Garrett, 27, lives in Kentucky. We also have four adopted children who live with us. They are a little on the furry side though! Reina, a 12 year old feisty Chihuahua, Chalky, our 10 pound family clown and his partner in crime, Biscotti, a sassy little tabby, both 8 months old and little baby Delilah, 7 months. Chalky (FKA Orkney), Biscotti, and Delilah (FKA Envy) are my "Blue Babies" (my sweet Wild Blue foster fails).
John and I are from originally from South East Texas, but have moved around quite a lot being a military family. Though we live in Colorado now, our favorite place to visit is the beach! We make a trip to Texas every summer and rent a cabin on the beach. John and Gavin love to surf fish and catch sharks.
I will fish with them some, but not knowing what is swimming around your legs and having crabs pinch your toes… so Sarah and I usually just walk the beach looking for shells and build sandcastles.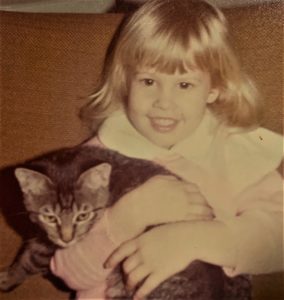 Cats have always been a part of my life. As far back as I can remember, we have always had cats. One of my favorite memories growing up is of my cat Ruffles. A sweet tabby we got when I was 4. She had given birth in a baby doll cradle I had in my closet. I remember thinking she was the smartest kitty to know to have her babies in a baby cradle, and she did it because she loved her babies so much. It was the cutest thing ever, her in a little cradle with her babies!
I love fostering. Taking care of these kitties, seeing them adopted into loving homes is a wonderful thing. I am proud to be part of Wild Blue.