Hello! My name is Krystal and I have been volunteering for Wild Blue Cats! since June of 2017. I am a veterinary assistant and love working with animals. I started volunteering on Wednesday mornings after hearing about the rescue from former adopters and how much they loved Wild Blue. Previously, I had a few bad experiences with fostering and volunteering for other rescues and was thrilled about hearing how fantastic Wild Blue Cats! was from start to finish. I have worked on several shifts at the sanctuary, including Mondays, Tuesdays, Wednesdays and Thursday mornings. Each team has been extremely loving and passionate and I am honored to work for this amazing rescue and volunteer group!
I was born and raised in a small town outside of Chicago, Illinois. My husband and I love to take adventures with our 3 furry kids, Kiba – a 10 yr old black lab, Raiden – a 9 yr old domestic short hair, black and white cat, and Gracie – a 6 yr old Heeler/Australian Shepherd/Border Collie mix. We travel around Colorado as much as we can and love to hike, camp, and explore the beautiful outdoors. Raiden is an indoor only cat, but he still enjoys the car rides, the scenery from inside our cabins as well as short leashed walks in controlled environments. We got Kiba and Raiden from Japan and brought them to the US when we moved back. Kiba means "fang" in Japanese and Raiden was named after the god of lightning, thunder, and storms from Japanese mythology.
Gracie was rescued here in Colorado Springs and was named after her lack of all grace as she is an extremely clumsy dog.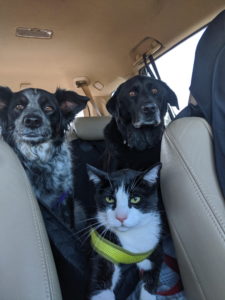 We love living here in Colorado and hope to stay here for a very long time. I am happy to have the opportunity to volunteer for Wild Blue Cats! And I love that I am able to love on and take care of the cats at the sanctuary.