Xenomorph is a very special little guy and he needs your help! Xeno's mom came to Wild Blue after her humans split up and didn't want her anymore.  After being in foster care for just under 2 weeks Xeno was born. He was born as a single kitten which is fairly uncommon for cats and had quite a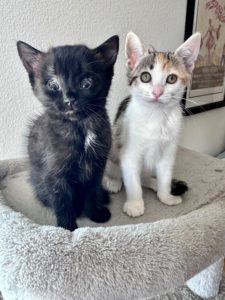 traumatic entrance into this world.  His mama was very protective but Xeno's foster mom quickly noticed he wasn't gaining weight as he should be so she began bottle feeding. It became clear that his mom didn't have the milk he needed to grow so we made the decision to move Xeno to another mama. His new mama, Whiff accepted him immediately and Xeno was so happy to have siblings.  When Xeno was around 4 weeks old we noticed his head looked a little different than other kittens his age and it just kept getting bigger.  After a visit to the vet we learned that Xeno has Hydrocephalus. Hydrocephalus is a build-up of fluid in the cavities deep within the brain. The extra fluid puts pressure on the brain and can cause seizures, blindness, brain damage, and even death.  In order for Xeno to live his best life he needs some some serious interventions. He will ultimately need a shunt placed to drain the fluid from his brain, this needs to be done as soon as possible to ensure there is no major brain damage from the pressure.  Xeno is a sweet little guy who absolutely LOVES to be snuggled. He purrs the second you touch him.  He is very tired and is in quite a bit of pain so he does spend a lot of time sleeping.  He loves to lay on his heating pad and play with his toy mice.
With this kind of procedure you can imagine there is a very extensive cost. Wild Blue Cats goes to extreme measures to save kitties in our care but we need some help from you to make this possible. Please consider donating and sharing to save sweet Xenomorph!
Can you help?  Donate here  on our Facebook page to help Xenomorph.  Our goal is $3,500