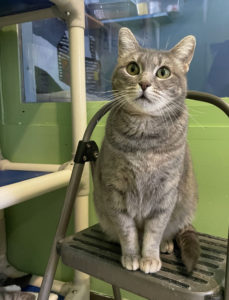 Meet our May 2023 Kitty of the Month…..Whimsy!
Hi I'm Whimsy! I'm a DSH grey tabby born approximately 4/11/15. I like to rub against legs to show my affection, and entertain myself with toys.
The stuffed toys, like the banana, are my favorite and my back paws get to kicking! I've even been seen playing with my own tail.
I have learned to get along with my grown kittens, but I prefer my own space and being able to play with toys by myself.
I'm not really a cuddler or lover of constant petting, and I'll occasionally show a little sassiness when I've had enough touching.
I loved to take naps on my foster's lap, but it was the lap that I wanted, not necessarily all the petting.
I would appreciate a home that encourages play and likes to give love. I did well with older respectful teens in my foster home, but I was very stressed and nervous around dogs.
So, here's my story… I was very pregnant when I arrived at Wild Blue in April 2022. I gave birth to 4 babies and graciously welcomed two orphans into my litter.
Unfortunately, I was much sicker than originally thought and was quickly diagnosed with FeLV and FIP. Because of the medication, I was unable to raise my babies,
but once my kittens were weaned from the bottles, and I no longer produced milk I was able to spend time with them again.
I was treated and survived FIP and all of my bloodwork has been great! I have no acute symptoms from the FIP and FeLV.
I think I would do okay in a home with other FeLV+ kitties if you follow the Wild Blue Cats instructions during introduction and take it slow.
Or I can be your only kitty. FeLV is contagious so please keep me indoors and away from other cats that do not have it.
I am up to date on my vaccinations and tested negative for FIV. I am a fun lady, and I would be so happy to have a home of my own.
If you have a special place in your heart and home for me, you can submit an online adoption application at: wbcats.org/adopt/
Adoption requires an approved application, signed contract, favorable interview and payment of all fees.