Hello!  My name is Allison and I have been a volunteer at Wild Blue Cats! for about a year and a half!  I started in socialization in the sanctuary then moved to Kaylene's Kradle.  I started off as an assistant, then became
lead, and now I am Co-Lead of Kaylene's Kradle w/ my great friend Gen! When Bilbo's Barn Buddies (BBB) opened in September last year, I started helping out by caring for the feral barn cats as a lead. Lastly as of last month, I am now a Foster! I currently have 4 of our Y kittens that WBC rescued from HSPPR and moved into Kaylene's (also know as KK).  They had stopped nursing from their mom and was eating kitten food so we fixed their mama and returned her to her original colonial (before they were put at HSPPR).  This is the usual process down in Kaylene's, unless the mamas get taken to BBB to be barn cats! In KK that's where we take care of feral pregnant cats and their kittens.  Once they give birth we'll take care of their babies & the mom until they are healthy, old enough & over 2lbs!
I absolutely love what I do at WBC.  From helping weigh just born kittens to giving injections and vaccines to taking care of (what we call) spicy feral cats before they go to barns to then sharing my home with kittens to help them get even more comfortable with humans and sometimes other animals, and ready to go to the Adoption Fairs at Petco or PetSmart!
Outside of WBC, I am a Certified Nursing Assistant (CNA), I basically care for humans & cats of all ages lol every minute of the day lol.  I moved here my junior year in high school almost 8 years ago from Southern California where I was born & raised.  I have loved living in Colorado Springs!  My favorite things to do are go downtown Colorado Springs or Denver, hike in the state parks or all around the state, or to eat Italian food @ Mici or hibachi & sushi @ Ai.
But the most important things to me are my sweet babies.  I have three cats, Gracie, Partita & Martin. Gracie is my 5 year old sassy Calico who runs the house.  Partita is my sweet all black with a little white on her chest baby.  Who I adopted from WB after being one of 19 kittens, apart of our "Kitten Pile".  And my mama's boy Martin, who is my two year old orange & brown tabby w/ Bengal spots!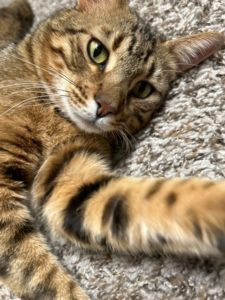 I am so thankful for Wild Blue for giving me two of my babies, and for granting me the opportunity to save cats & kitties lives!