We just received this wonderful update from Moppet and Lex Luther's adopter, and we just had to share it with everyone!  Moppet (now JJ) and Lex Luther (now Tut) have settled in really well.  They get along great with their sister and each other.  Their mom says that JJ just makes your smile!
Thank you for the wonderful update on Moppet &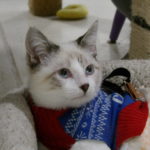 Lex Luther!
Some of you may remember Moppet, our very sweet special needs kitty from Roswell New Mexico!  Back in October 2022, we asked you to help little Moppet Live His Best Life!!   And that's exactly what you did!! Because of your generosity, we were able to get Moppet all the medical treatments he needed, which included him getting acupuncture treatments, ringworm treatments, physical therapy, and his very own wheelchairs to help him zoom around!!  Now he is living his Best life with his new brother Lex Luther, who was also a rescue from Roswell New Mexico.  Lex Luther was our April 2022 Kitty of the Month, and he arrived at Wild Blue Cats in July of 2021.  He was a scared and sick kitten, with URIs, chronic congestion, stomatitis and ringworm as well.  It took him over a year to be trusting of humans…but now look at him!!   Also living his best life with his new brother Moppet, and their new sister as well, in their forever home!!  This is why we do what we do!!
We are dedicated to saving the precious lives of cats and kittens who are abandoned, abused, neglected, displaced or surrendered, and to find them permanent homes or provide lifetime sanctuary or foster care.
Please help us help more kitties in need like Moppet and Lex Luther, who both came from Roswell New Mexico, by supporting our program Reeves' Rally for Roswell!
Thank you for helping us Save Precious Lives! 

Donate

here

to help us continue this work!