Wild Blue Cats! Is announcing the continuation of our program to support the cats and kittens of Roswell NM, going beyond our normal operating areas around Colorado Springs to help others in need!  This year, our program, now called Reeves' Rally for Roswell 2023 will include low cost Spay/Neuter Clinics for the residents of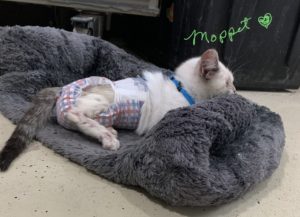 Roswell and their feline friends.
We will continue to pull kitties from the shelter in Roswell to help them significantly improve their save rate, as well.  Also, we will once again be selling our popular Reeves' Rally t-shirts and running fundraisers to help fund our important work as a Best Friends Network Partner toward making the United States a No Kill nation by 2025!In 2022, Wild Blue Cats! pulled 398 kitties from Roswell Animal Services with help from Peace of Mind Rescue (fostering), Best Friends Animal Society (funding) and Casa Querencia (Veterinary care)!  It was super helpful when RAS was able to help get kitties to the vet for us in advance of us picking them up.
Of the 398 we transported up from RAS, 359 kitties have been adopted so far for a 90% adoption rate!  The remaining kitties are still undergoing treatment for ringworm, upper respiratory infection, and Feline Infectious Peritonitis (fatal if not given 12 wk treatment), but all are or will be available for adoption soon.  Also, of the kitties we pulled, 10 ended up being pregnant and delivered babies here in Colorado, adding 56 more kitties.  All who survived to adoptable age were adopted except 5 who were born in November and are not yet ready for adoption.  All kitties were spay/neutered, vaccinated, microchipped, dewormed, and treated for parasites.  Several were given dentals, had eyes enucleated, limbs amputated, etc, as needed.
Thank you for helping us Save Precious Lives! 

Donate

here

to help us continue this work!