My name is Mary Ann Lamontine, and I volunteer in Maya's.  I also participate in transportation where I get kitties from other locations to bring to Wild Blue.  I also try to be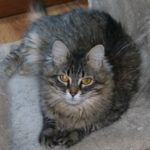 available to take them to a medical or dental appointment.
What I love about Maya's is you work with kitties that may have never known people, never been held & petted, never known what it is to be loved.  Some come to us with disabilities.  One of my favorite memories was with a kitty that has since passed away from cancer.  For months I would kneel down by him and hold my hand out and he would walk away.  Then one day I held out my hand, and he touched my finger with his paw.  That was monumental for me—and I want to believe it was for him as well.
Anyway, I was born and raised in Youngstown, Ohio.  After high school, I served 10 years in the  Air Force where I specialized in the Airfield Management and Personnel fields.  My final assignment was from Offutt AFB (NE) to Buckley AFS/Lowry AFB in 1981.  At Buckley, I was the Chief of the Orderly Room for the 2162d Communications Squadron.  At Lowry, I was Chief of the Orderly Room for the 3320th Corrections & Rehabilitation Squadron.  I also prepared prisoner personnel records for trial or discharge.  From there, I left the service with an Honorable Discharge in 1987 because I had 2 children that needed me more.  I wanted to finish my degree after getting out, but life kept getting in the way.
After the service, I worked for the federal government (DOD civil service.) My first position was with the 2d Space Wing Training Office at Falcon AFS.  My last position was as secretary to the 50th Space Wing Commander at Schriever AFB.  I finally retired after 40 years in 2016.
I met my husband, Jerry, at Falcon AFS (now Schriever) in 1988.  We were married in August 1991.  He was active duty Air Force and was assigned to the same office I was in.  He became an amazing step-father to my—our—2 children.
The years have moved on, kids grew up, and we decided to down-size our home.  We left the city and bought a small home on 5-acres, just north of Black Forest, which we share with our 9 kitties.  Two of those kitties we adopted from Wild Blue.  Yes, I was a foster failure.
Finally, in my spare time, I enjoy travelling, landscaping, quilting, singing on my church worship team, spending time with our kitties and 6 grandchildren.