Meet our June 2022 Kitty of the Month…..Grace Kelly!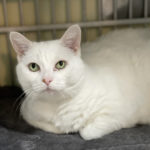 Hello! I'm a mature medium-haired white kitty named Grace Kelly, and my beauty matches my name. I have stunning green eyes and I enjoy my attention and being caressed. For the past several months I have been on a personal journey, and WOW, the transformation been remarkable! I was relinquished to Wild Blue overweight and reluctant to exert much energy to move around. I couldn't even do a good job of grooming myself.
My coaches started me on a diet and helped relieve some of my arthritic hip pain with some Dasuquin supplements. Even though I never missed my protein meal time, my cravings gave me the motivation to be mobile and seek more food. I persistently tried to snag as many dry morsels of food from other bowls as I could, and I became a Master at reaching into other low-level enclosures to tip their food bowls over! As my hip pain subsided,
I became more active in my quest, and while my waist and weight decreased; my agility and reach for the higher-level food bowls became easier. I am climbing everywhere now and this mature lady (born 8/05/12) feels young and exuberant again! I'm determined to snack, which is why I need help to keep me disciplined and on target for my food intake. My many friends at Wild Blue have cheered me on, and I share my healthy purr motor with them to show my happiness.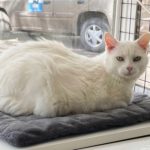 I'm still a people lover to the core, and I can hold my own with the other kitties. I'm ready to find my forever fitness trainer who will continue to maintain my new healthy lifestyle and provide me with a cozy loving home. Are you ready? If so, please go to www.wbcats.org/adopt and submit an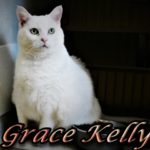 online application. I can't wait to meet you!