Hey there, I'm Kat! I live in Black Forest with my husband and our four boys. Our family continues with 2 rescue pups, Hugo and Zoey, and our adopted cat, Chester. Chester joined the family in Spring of 2018 as a 2# ball of peach fuzz and has since grown to a 12# beautiful orange tabby man-cat. He loves to cuddle and fits in perfectly to our loud, rambunctious household.
Since a young age I have had a passion for animals, I would frequently bring home strays, worked at various pet stores, and adopted pets of my own.
As our youngest baby became more independent I found myself wanting to do more. I was looking for a way to volunteer that would fit our busy lives and give me more purpose within the community. After chatting with some volunteers at the local adoption fair, it quickly became clear that Wild Blue was the perfect fit I had been looking for.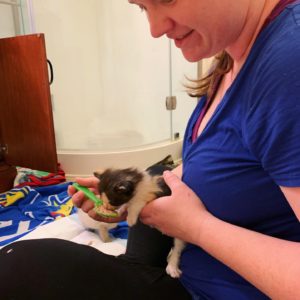 I started out as a foster helper, and while I didn't know it, it was exactly where I was meant to be. Being a foster helper was a great introduction to fostering and special needs kitty care. Working with Lauri's kitties gave me the confidence that fostering could easily fit into our life.
Fostering has become a family affair. I wouldn't be able to foster without the support and help of my husband and boys. My husband Andy helps with kitty transport and playtime (because he is retired Army and true man's man, I'm always surprised when I find him on his own in the kitten room playing with the babies!)
One of our boys in particular, Bennett, has taken such a keen interest in the kittens. Always checking on them, advocating for them, being by their side at every vet appointment, fostering is a passion he may never have found without Wild Blue Cats. Bennett is also being recognized as Volunteer of the Month! His dedication to our kittens is very impressive for only 7 years old, we are very proud of him.
After fostering three wonderful adult kitties, we got our first litter of kittens on May 1, 2019. They were 7-10 days old and their eyes were just starting to open! The process of watching them grow from the 5oz hamster like creatures into beautiful, inquisitive, playful kittens has been such a joy. I can't even begin to describe the satisfaction and enjoyment this process has given me.
It has been such a meaningful transition for me- from caring for my four babies, to caring for these kittens. The gratification that comes from raising these vulnerable creatures to become their unique selves is unmatched and is what drives me to volunteer.
The hardest part, by far, is letting them go. We've come so close to 'foster failing' on every cat that's come in our home. Our house is so busy and full, and with wanting to continue to foster, we've ultimately decided to help each kitty find their forever home.  We are so grateful to know they are being adopted into amazing homes and have the very best futures possible!
We are looking forward to many more years with Wild Blue Cats and fostering many more kitties.