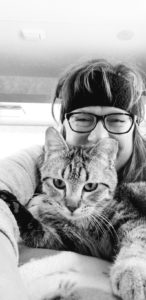 Hi, my name is Allison and I'm a 2009 transplant from WI.  I thoroughly enjoy the animal welfare industry and have been involved in it on many different levels since I was a little kid.  Being around animals has been not only been a wonderful hobby but a fun profession over the years.
My appreciation for cats really changed when I worked with a "cat only" veterinarian office for a few years before I moved out here.  And since then, it has blossomed into an amazing opportunity to help thousands of cats in Colorado and regionally.  I have learned so much from many great people and I hope to continue to do right by them and all the animals that cross my path.
I am very passionate about TNR (trap,neuter, and return) to help stop the overpopulation of cats on the streets so I spend a fair amount of my time at Wild Blue Cats! helping others with trapping to make this happen.
I am part of the executive leadership team and also help with community outreach, events, grant-writing, and keeping our social media presence active!  It's been a labor of love to help as many cats as possible with a wonderful group of people who are passionate about cats at Wild Blue.
In my spare time, I spend time with horse and when able, visits with my son and his dogs.   Animals everywhere…..I wouldn't have it any other way!