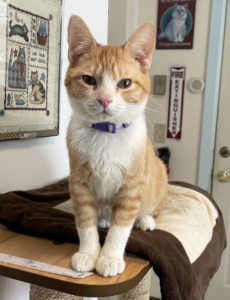 Meet our July 2023 Kitty of the Month…..Phil Collins!
"Hey there, it's me Phil Collins. I'm trying to get your attention because I want some love! I'm a DSH orange tabby with white male, born approximately 2/11/21.
I am eager for human attention and I am also an "on-the-go" kind of guy. I am super playful, especially with the feather toys, and I'm quick. I was adopted for about a year and kept my humans entertained with my antics, however they had to move recently and they were unable to take me with them. I was shocked and needed some time to adjust after my return to Wild Blue. After some time, I thought I was ready to meet new friends, but when introduced to other kitties in a room I was overwhelmed. I am doing much better now and I prefer being in my own space where I feel safe. I would love to find a home with just my human, where I can share my love and gradually expand my living area and relax. Change is hard on me, and I need to feel like I can control my surroundings. I need some consistency in my schedule and stability. I have just a few teeth left in my mouth, and I love my wet food. Part of my anxiety is also with carriers, so I'll need some help getting use to them in a positive way. Do you think you can be my emotional support human?  If so, please go to wbcats.org/adopt and complete an application. I promise to share my appreciation with lots of purrs and head bumps." Adoption requires an approved application, signed contract, favorable interview and payment of all fees.