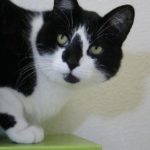 Meet our May 2022 Kitty of the Month…..Panda Bear!
Meow! My name is Panda Bear – look at my face- name makes total sense, right? I am a 9 1/2 year old female shorthair, black and white sweetie,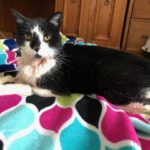 or at least that's what everyone keeps telling me. I was raised on a horse farm where I had the run of the place and was an exceptional hunter, the gophers, mice and voles didn't stand a chance. My owners moved to an apartment and I was living the inside life which didn't allow for as much activity as I was used to. A new family adopted me in 2018 and I was their "garage kitty" which made me very happy. They let me come inside but I hated it because they had other kitties and dogs and I was used to a very independent life.
As if all of this change wasn't enough, my family took me to the vet and I was diagnosed with diabetes.  After my diagnosis I was relinquished to Wild Blue Cats! to get the care I need. It's really hard getting a shot of insulin every day, and having my blood sugar checked is not fun and makes me very grouchy. Some days I have lots of energy and some days I don't. Also, if you have ever heard the phrase "hangry" that is a real thing for diabetics. Even with all the pokes and meds I still really love my people. I love to rub on legs and I even like to be held. I am super affectionate and I don't hold a grudge against any of the volunteers trying to help me.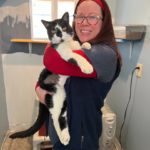 I really need a home with a patient person who maybe understands what I am going through. I also need a home with no other animals. I would love a house where I have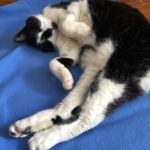 access to an outdoor area with supervision. I may have to be on insulin for the rest of my life, but I hope with the right family that my life will be long and filled with lots of love. Oh yeah, and don't forget I don't like other animals. I want you all to myself. Purr!
Please give Wild Blue Cats! a call to make an appointment to meet me! I am up to date on all vaccines, and I have been spayed, microchipped, dewormed and my FELV/FIV tests were negative. If you know you would like to start the adoption process you can go to http://WBCats.org/adopt to submit an online adoption application. Adoption requires an approved application, signed contract, favorable interview, and payment of my adoption fee.