For the first time this year we posted Kitty of the Month, and a few days later he found his forever home!! Congratulations Renly! Since we are still in the first week of March, and the idea of kitty of the month is to help find these kitties a fur-ever home…we are picking a second Kitty of the Month for March! In hopes that he too, will find his purr-fect fur-ever home!
Meet our 2nd March 2022 Kitty of the Month…..Witwicky!
Hello, I'm Witwicky
I am a male DSH white and tabby mix that may look at you suspiciously, however I've learned to trust, and I have made remarkable progress since my days on the streets of Roswell, NM. My excitement sparks when you bring out the flannel strip wand toy and we get to play. Playing is my joy and a window to developing relations with others, and when you add a few treats in the mix of our interactions, well, I'm a happy kitty! When things are quiet after dinner, you may even find me tossing around a toy mouse on my own. Soft conversations and slow and steady pets are also ok when they come from my trusted friends or pets with the soft wand from most other socializers.
I get overwhelmed if too many people are around me, so my ideal home is a quiet and calm one. All I need is time and your patience to grow in my trust in you. I am cautious around other kitties and prefer more independence, but when I'm in the mood for snuggling, I tend to gravitate toward another calm submissive kitty. My estimated DOB is 4/20/20.
If you would like to know more about me or are interested in meeting me, please complete an online application at wbcats.org/adopt.  Adoption requires an approved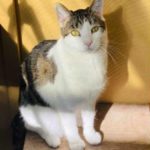 application, signed contract, favorable interview, and payment of all fees.