Renly, who was our March Kitty of the Month! Just got adopted!
 This is fantastic news!
Meet our March 2022 Kitty of the Month…..Renly!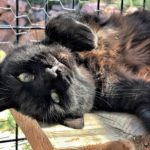 Hi, I'm Renly and I'm a very friendly older gentleman kitty with a short chocolatey black coat. It took me some time to get in the grove but look how relaxed I am now! I enjoy being pet and seek your company when you are near me. When I think you are done petting me and I don't want you to stop, I may reach out to you to convince you to carry on with more love. As a senior kitty, I'm not too energetic toward toys; I'd rather enjoy your company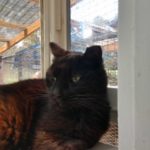 and just hang out. There were way too many of us living in a home in Olathe, CO with a well-intended older person, and then our caretaker passed away. We had to vacate, and Wild Blue Cats! helped me with my medical needs and I feel much better. I do have a bit of cloudiness in my left eye, remnants of untreated infections, and I have no teeth so soft foods work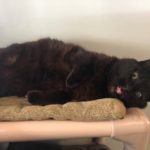 well. I've had many experiences in my life and I'm looking ahead to a future filled with loving care and security. My estimated DOB is 5/07/09. I'm ok with other kitties around but introductions with new friends should go in stages and follow the instructions provided by Wild Blue.
If you are interested in adding a new adventure to my life story, please complete an online application at wbcats.org/adopt.  Adoption requires an approved application, signed contract, favorable interview, and payment of all fees.