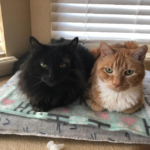 Hi! I'm Anne, and I have been a volunteer with Wild Blue since June 2020 when I got my first litter of foster kittens. My friend Wendy found out that I had fostered kittens for HSPPR way back in 2003 and asked if I would like to foster for Wild Blue. I love cats and have had them my entire life. Getting to have foster kittens allows me to always enjoy the fun of kittens. One of the things that I find so satisfying about fostering is getting to see the sick and scared kittens I care for grow into loving, healthy kittens. I am now also going to be a foster mentor. I look forward to helping other fosters.
In May 2021 I started volunteering in the sanctuary on Sunday afternoons to help socialize and care for the kitties that came from Olathe. I have continued on as a member of the Sunday 4-6 shift. I enjoy the team I work with, and its fun getting to know the sanctuary kitties. I'm so happy when the kitties get adopted.
My family is comprised of my husband Brad and son Kevin. We have three cats: Topher who's 18 years old, Tommy who's 15 years old, and Baxter Black who is also 15. We
also have a 6-year old dog named Snickers. When I'm not spending time volunteering, I work for UCHealth where I'm the manager of Decision Support.
I'm very proud to be involved with Wild Blue Cats! I love how once a kitty is a Wild Blue kitty, it's always a Wild Blue kitty and that Wild Blue will do everything possible to save a cat's life.