We moved to Colorado in June 2015 from Houston. We have LOVED
living here. I met Debbie Carter in the cat food section of Walmart one
afternoon. We started chatting and the next thing I know I'm
volunteering for Wild Blue. Lesson learned, do not talk to anyone in the
cat food aisle! But seriously, I have loved volunteering and am now the
proud parent of 3 adopted precious beautiful loving fur babies and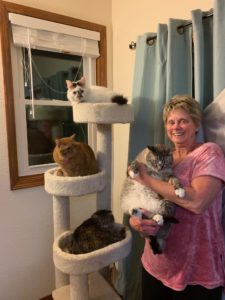 "medical fostered" 3 sweet sick kitties back to health, Bruna, Ketchi and
Tennille who do not have their own furever homes. Also, I have been
fostering 'Saint' for months and plan to adopt him soon as he has
become part of the family as well.
My husband was forced to retire from a company after 28 years of
dedicated service but was snatched up fast by a really great company.
Now we are having to relocate to Maine. Maine is a beautiful pet
friendly state so we are excited for the new adventure. It will be a
bitter sweet move.
Thanks to everyone at Wild Blue for allowing me to be a part of the
great things that are being done for all the unfortunate precious kitties
in southern Colorado. Keep up the great work. I hope to find a rescue
in Maine that I can be a part of.