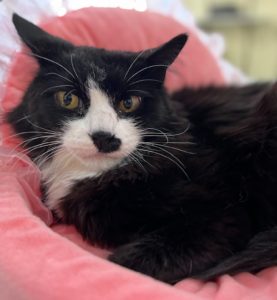 Meet our November 2022 Kitty of the Month…..Reinhardt!
Here's a little bit about her!!
Meow! I'm Reinhardt, a beautiful DMH Tuxedo girl. I was born approximately 2/12/19. I was living with my one and only person until she went into hospice care, and later I was taken to Wild Blue Cats! I only trusted my only human companion, so I was not happy. However, since coming to Wild Blue, I have learned to expand my trust with more people. I love pets… cheek rubs are my favorite! I love my dry food and I absolutely love, love, love Churu treats! Give me a Churu treat and you and I will be best friends! If you are patient and calm, I think we would make a great team. I can get overstimulated at times, and I will let you know with a flicking tail or growl that I've had enough and need some personal space. I am quick to purr, I allow being picked up for a short time, and I just want someone to be my best friend. One request though, I need to be an only kitty in a calm adult home so that we can all be happy. I have tried to get along with other kitties, and I just get angry and swatty.
If you think you are my special someone, please complete an adoption application at www.wbcats.org/adopt
Adoption requires an approved application, signed contract, favorable interview and payment of all fees.
I can't wait to meet you!