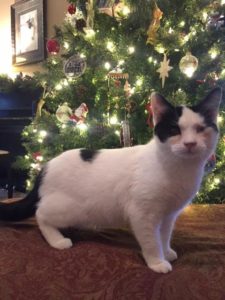 I'm a very loving, short-haired, 1-year-old male kitty with dense, plush fur that everyone enjoys snuggling into and really cute markings on my head and tail. I'm eager to be around people and I also enjoy the company of the other cats at my foster home.
I came to Wild Blue when I was just a few days old and have had a bit of a rough start. Complications from early exposure to feline herpes resulted in my left eye becoming fused and to atrophy. A wonderful partner vet did an eyelid release to reveal my beautiful left eye…I do have some vision in it and enjoy playing with a laser light. I have lingering issues with runny eyes and nose — but my foster Mama takes really good care of me and cleans me up each morning so I'm good to go for the day.
Special Needs: My nose and eye occasionally get runny, so you'll need to help me out and wipe them every few days with a damp washcloth.
My adoption fee covers the following:
Neutering/Spay
Rabies Vaccination
FVRCP Vaccinations
Microchip
FELV/FIV test (negative)
Deworming/anti-parasite medication