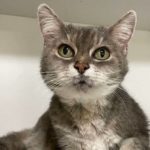 Meet our August 2022 Kitty of the Month…..Saki!
Hello, my name is Saki. I'm often referred to as "a sweet older lady", probably because I am! I was born approximately 5/28/10 and lived most of my
life with a nice gentleman. Recently he passed away and his family could not take me in, but Wild Blue opened their arms. I am a chatty gal who loves to start conversations to convince you to pet me and hold me. I love to cuddle and be with my people. My raspy meow and my grey "lipstick" around my mouth are very endearing. I've had a full exam at the vet and dentist, and my gray tabby and white fur may look a bit worn, but improves every day with my attentive grooming sessions, my dedicated care, and my good food. I love my chicken wet food and RC Baby Cat dry food that is soft. Over the years, I have learned what makes me happy and things I can do without. I prefer my human love the most, but other cats… well, let's just say I can do without them. I still like to play a little with wand toys, but snuggling with you is my favorite. Like most older gals, I need to go the litter box a few more times than I used to, but that's somewhat expected with my age. Any chance you can share your love with me and bless me with a comfortable indoor life?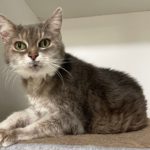 I assure you, this "sweet older lady" will melt your heart!
I have many more years to enjoy life so if you're interested to meet me, please submit an
adoption application at www.wbcats.org/adopt
I can't wait to meet you!