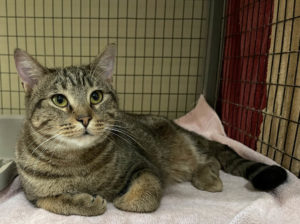 Meet our November 2023 Kitty of the Month…..Samantha!
Hi, I'm Samantha!  I am the cutest DSH brown tabby female with a heart of gold.  I am a special needs kitty because my hind legs are paralyzed.  However, that doesn't prevent me from scooting around, having fun with wand toys, and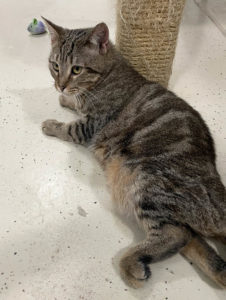 sharing my endless love with my humans.  I am a sweetheart!  I adore all kinds of petting especially around my ears, and I enjoy lap-time.  I transferred to Wild Blue Cats from a shelter in TX, and my medical team has assessed my function.  I now use a low-profile litter box, and I try my best to be clean but I still will need help.  I am trying out a pouch to protect my legs while I scoot around the room, and I may get a special skateboard soon to make my mobility even easier.  I can't wait to try it out!  I prefer to stay close to my humans when I'm around other curious kitties, and I may hiss occasionally if they get too close in my bubble.  I seek a cozy cubby to hang out in when I need a rest.  My estimated birthdate is 10/03/22.  I like to play with your pen when you are trying to write, and I'll talk to you when I need your focus to love on me.  If you have it in your heart to take on my special needs, I assure you I will make up for it with my endless kisses and snuggles.  To find out more about me, please reach out by filling out an application at www.wbcats.org/adopt   I'd love to show you what a darling girl I am, so let's meet at the sanctuary at Wild Blue Cats!